 Department of Media Technology
In Media

June 17th 2013
Radio SRF (Tapio Lokki): Neue Tests zur Akustik im Konzertsaal
June 5th 2013
Aalto.fi (Tapio Lokki): Award winning researcher Tapio Lokki developed a method to accurately compare concert hall sound
Events / Careers

22.04.2014 @ B122, CS-building
14:00 Pasi Salo: Design and Implementation of a Single-Page Web Application - Case Online Music Diary

24.04.2014 @ TUAS 3550
10:15 Lauri Rummukainen: Critical Infrastructure Visualization: Achieving Situational Awareness

Virtual Acoustics Research


Prof. Tapio Lokki and prof. Lauri Savioja
Our current research in the Virtual Acoustics Group is concentrated on subjective and objective evaluation of concert hall acoustics. Moreover, we work on audio augmented reality and room acoustics modeling.
Visual Media Research


Prof. Pirkko Oittinen
The Visual Media group has the mission of advancing visual technologies and raising the quality of visual information to create enhanced user experiences in different usage (professional and end-use) contexts. The research approach is constructive and exploratory and crosses disciplinary boundaries.
Games, Graphics, and Interaction Research


Games, Graphics, and Interaction
The interaction research group "Art & Magic".
Computer graphics research. Jaakko Lehtinen also works for NVIDIA Research.
Computer games research, joint professorship with Aalto ARTS (Media lab).
WWW and Semantics Research


Prof. Petri Vuorimaa
The Web Services Group conducts research on web-based services and architectures including scalable Internet-based architectures, web applications platforms and social media technologies.
Prof. Eero Hyvönen
The Semantic Computing Research Group (SeCo) researches machine-processable semantics related to, e.g., the Semantic Web. Our research is focused on semantic media technologies, such as the Semantic Web and intelligent web services.
Contact info

Aalto university
School of Science
Department of Media Technology
Otaniementie 17
02150 ESPOO
FINLAND
Tel: (09) 47001
Fax: (09) 412 7035
Aalto university
School of Science
Department of Media Technology
P.O. Box 15500
FI-00076 AALTO
Tel: (09) 47001
Fax: (09) 412 7035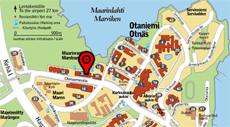 Aalto / School of Science contact info