 Department of Media Technology
News

No presentations at this time.
Studies

August 22nd 2014:
#snapshot exhibition presents Aalto University student perspectives on snapshot culture
The Finnish Museum of Photography's #snapshot exhibition updates the concept of snapshot photography. The exhibition is mainly made up of photos, internet photos and historical snapshots taken by ordinary people and - of course - selfies.
'A snapshot photo used to be technically independent, but today it's closely linked to social networks. For example, smart phones and the internet mean that selfies are always real-time and in the public eye,' says Risto Sarvas, Adjunct Professor at the Department of Media Technology, who is one of the main architects of the exhibition.
Two of the installations at the exhibition were produced by students from a Department of Media Technology content production course - Niklas Kullström, Ian Tuomi and Ville Henriksson. One of those installations comprises seven screens and thousands of Instagram photos, while the other is a wall projection that shows real-time Instagram photos taken in certain areas in the capital region.
'At the beginning of the content production course, a Finnish Museum of Photography representative told us students about the type of content they wanted for the #snapshot exhibition. Then we got to brainstorm a few concepts and present them to the museum,' explains Ville Henriksson as he describes the background for the exhibition.
'Rather than just producing a supporting content production work or a technical solution, the goal was to create something that might also cross thresholds. At the very least, the work had to offer the general public a fresh perspective on contemporary photography services, the explosive growth in visual image streams, and the snapshot culture of today. Another target was to demonstrate the social nature of snapshot culture. I think the group was very successful!'
Niklas Kullström also contributed a large photograph installation called INDEX (part I) (2014, 1441x39cm), which is made up of 7 200 photos. INDEX comments on the colossal amount of everyday photos and, at the same time, on the meaning of a single photograph as part of this mass.
'I used the work to assess my own environment and the structure of my life - so this is simultaneously a very personal and intimate survey of how my own life is constructed. It also takes a critical approach to the consumer society. The work was created using outdated technology and I wanted to focus attention on the fact that not everything has to be the latest and most modern,' says Niklas Kullström.
#snapshot is the result of exceptional collaboration between Aalto University Department of Media Technology, the Finnish Museum of Photography and the University of Tampere School of Communication, Media and Theatre (CMT). The exhibition is supported by Ifolor and EIT ICT Labs.
Real-time HelsinkiNOW Instagram stream: http://helsinkinow.futurice.com/#/
Studies

August 22nd 2014:
#snapshot exhibition presents Aalto University student perspectives on snapshot culture
Virtual Acoustics Research


Prof. Tapio Lokki and prof. Lauri Savioja
Our current research in the Virtual Acoustics Group is concentrated on subjective and objective evaluation of concert hall acoustics. Moreover, we work on audio augmented reality and room acoustics modeling.
Careers


Prof. Pirkko Oittinen
The Visual Media group has the mission of advancing visual technologies and raising the quality of visual information to create enhanced user experiences in different usage (professional and end-use) contexts. The research approach is constructive and exploratory and crosses disciplinary boundaries.
Games, Graphics, and Interaction Research


Games, Graphics, and Interaction
The interaction research group "Art & Magic".
Computer graphics research. Jaakko Lehtinen also works for NVIDIA Research.
Computer games research, joint professorship with Aalto ARTS (Media lab).
Asst prof. David McGookin
Multimodal HCI research.
Prof. Emerita Pirkko Oittinen
WWW and Semantics Research


Prof. Petri Vuorimaa
The Web Services Group conducts research on web-based services and architectures including scalable Internet-based architectures, web applications platforms and social media technologies.
Prof. Eero Hyvönen
The Semantic Computing Research Group (SeCo) researches machine-processable semantics related to, e.g., the Semantic Web. Our research is focused on semantic media technologies, such as the Semantic Web and intelligent web services.
Contact info

Aalto university
School of Science
Department of Media Technology
Otaniementie 17
02150 ESPOO
FINLAND
Tel: (09) 47001
Fax: (09) 412 7035
Aalto university
School of Science
Department of Media Technology
P.O. Box 15500
FI-00076 AALTO
Tel: (09) 47001
Fax: (09) 412 7035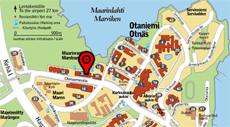 Aalto / School of Science contact info